Simply Powerful ONLINE EXAMS «Built for the realities of the classroom»
Exam.net emerged as a robust online test-taking software meticulously crafted for students navigating through the e-learning experience. Tailored to deliver a seamless and potent platform for educators, it is underpinned by a website, which was conceptualized as a dual-faceted entity: a direct, effective conduit for students to the test-taking engine and a marketing tool aimed at principals, teachers, and school decision-makers. With its roots in Sweden, the platform burgeons as a comprehensive, intuitive, and powerful tool that not only facilitates educators in creating and conducting exams but also ensures adaptability to accommodate the diverse needs of every student.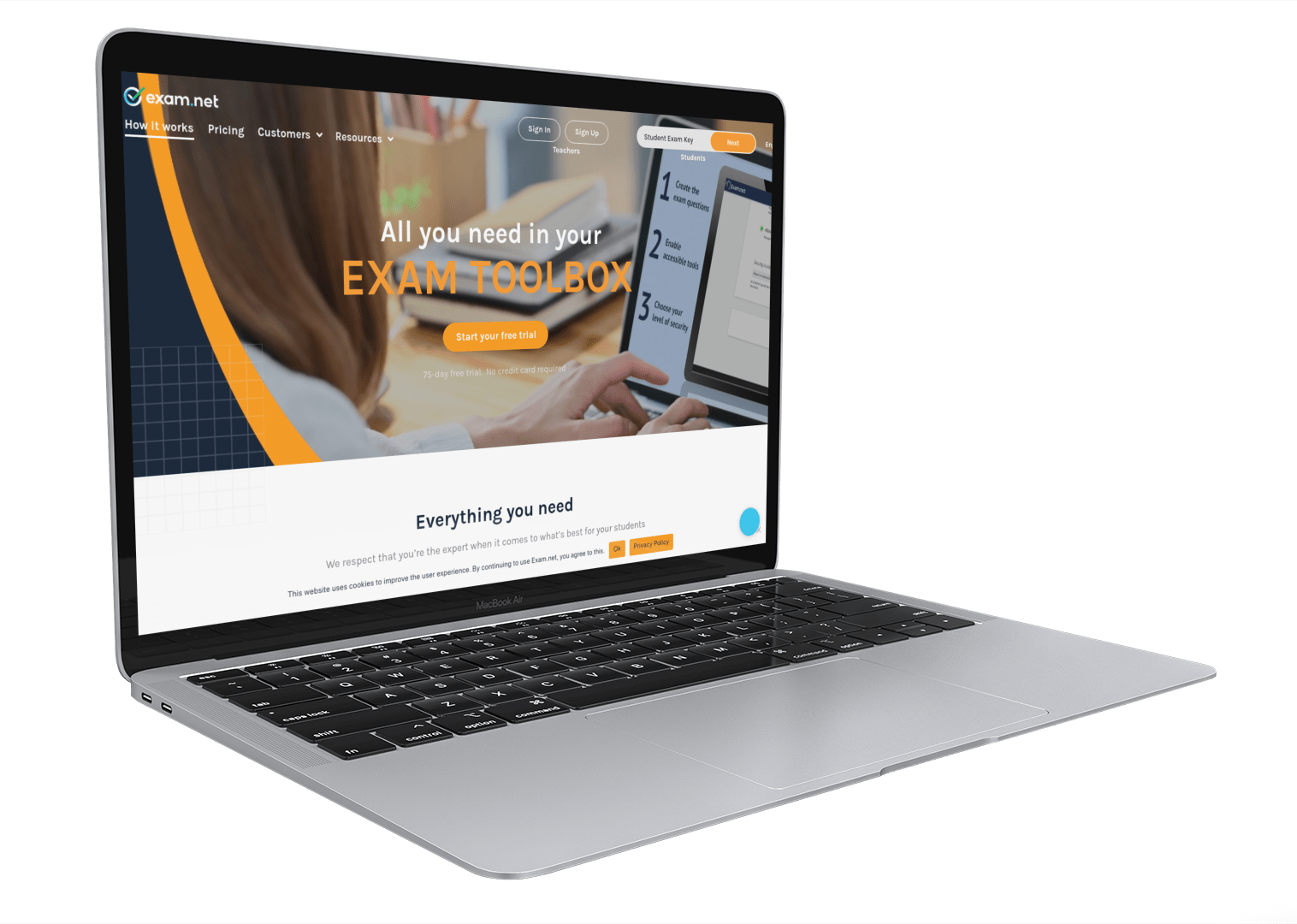 The complexity lay in amalgamating operational efficiency for students with impactful marketing for decision-makers in schools, ensuring ease of access to the test-taking engine without diluting the marketing message. Additionally, the website needed to offer a flawless user experience across varying device sizes, connection speeds, and geographical locations, while simultaneously providing impeccable translations in multiple languages. Establishing a site that balanced aesthetic appeal with functionality, responsiveness with detailed attention to diverse user scenarios, and simplicity with a rich feature set presented a multifaceted challenge.
Leveraging Figma for design and deploying Elementor and Jet Crocoblock plugins for building and enhancing functionality, the website was constructed with an intricate balance of various elements. This involved developing unique icons, defining the color scheme, and mapping the user journey across pages. Employing Weglot, the site was adeptly translated into multiple languages, ensuring cultural and linguistic accuracy, particularly for its native Swedish audience. The development strategy unfolded with a keen eye on establishing an equilibrium between quick, effective access for students and detailed, compelling marketing content for school authorities.
The Exam.net website emerged as a pristine, pixel-perfect platform, embodying the potent combination of student accessibility and incisive marketing. Its nuanced translations, detailed responsive views, and an intelligently charted user journey encapsulate the brand's commitment to providing a powerful, easy-to-use exam creation and management tool while also simplifying the technical complexity for educators. The site not only meticulously serves its bifurcated audience – being an efficient portal to the exam engine for students and a persuasive marketing platform for decision-makers – but also stands as a testament to strategic design and development, delivering comprehensive functionality without compromising on user experience or visual appeal.