Boost profits with discounted gift cards
ArbitrageCard positions itself as an instrumental platform for bulk purchasing resellers, providing them with a unique avenue to amplify their margins by 1-10% through the acquisition of discounted gift cards. It assures a notable augmentation of profits, with an average increment of 6.5% in margins for e-commerce sellers, by offering discounted gift cards from prominent e-commerce suppliers. As a specialized platform dedicated to aiding both Retail and Online Arbitrage, ArbitrageCard recognizes every percentage point's significance in the competitive reselling market.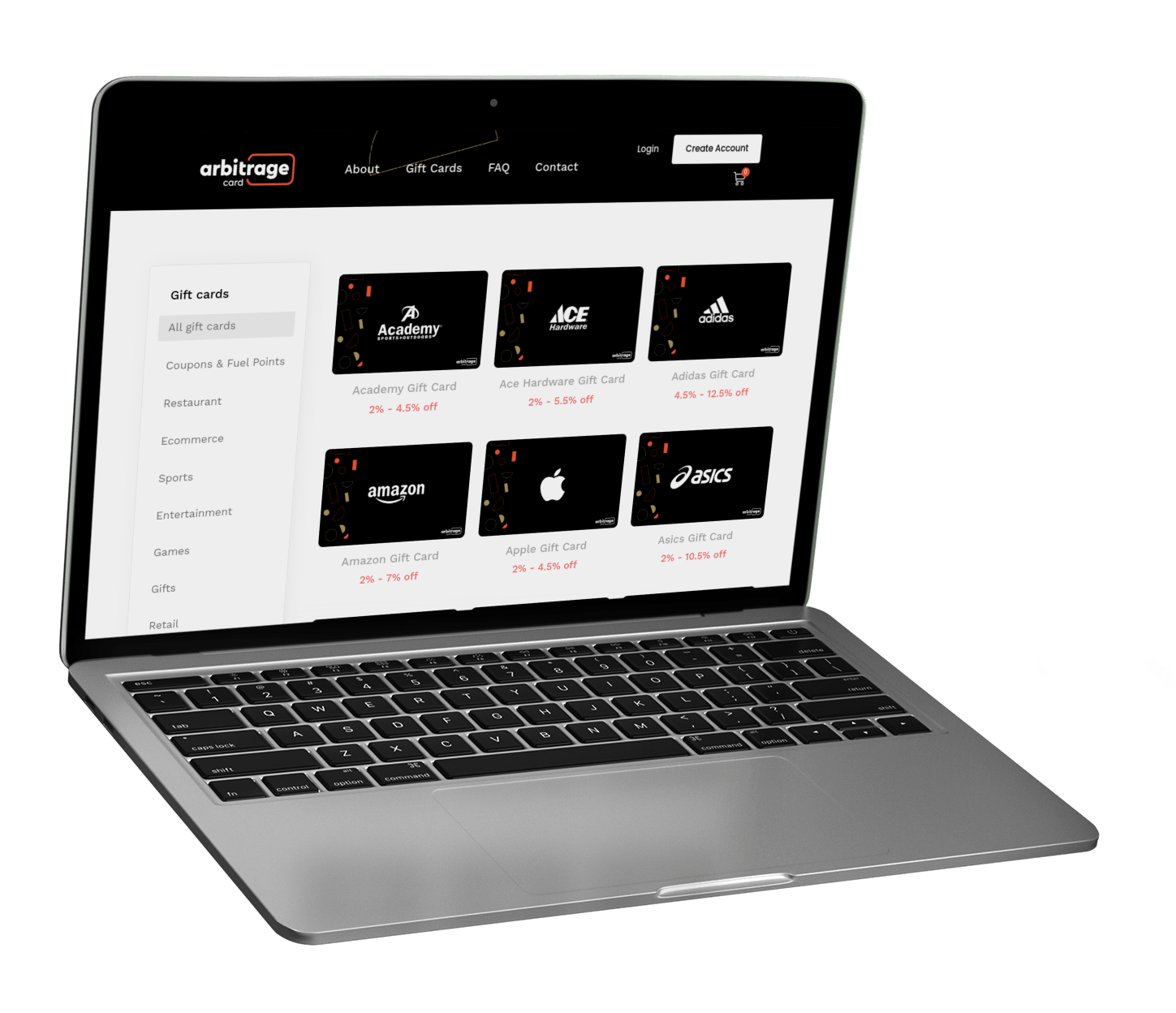 Creating a secure, efficient, and user-friendly website that not only deals with the straightforward selling of gift cards but also securely manages sensitive encrypted card data, user identification verification through QR codes and image capture, and facilitates an intricate my-account area for meticulous card management presented multifaceted challenges. Aligning all these functionalities with a robust, mobile-responsive design, which could expedite user processes even in real-time purchase scenarios, and implementing a custom ACH gateway to mitigate credit card processing fees, demanded an exhaustive development and design strategy.
Leveraging the versatility of WordPress and WooCommerce, and through meticulous design in Figma, a comprehensive website was developed. It involved crafting a custom plugin to deliver serialized gift cards and designing tailor-made sections of the website – Product, My Account, and Gift Card Redemption area. The implementation of a custom ACH gateway, an intrinsic my-account area for precise card management, a QR code-based identity verification system, a barcode generator for POS scanning, and persistent security checks, all morphed into a bespoke solution that holistically catered to all operational, security, and user-experience oriented requirements.
ArbitrageCard's website emerged as a nuanced masterpiece, exemplifying the extensive capabilities within a WooCommerce site. From secure and verified transactions to an enriched, mobile-responsive user experience, the site not only adheres to the brand's commitment towards augmenting user profits but also offers a streamlined, secure, and enhanced user interface. The robust my-account area, secure identity verification, efficient card management, and use system, and the inclusion of a custom ACH gateway underscore a potent blend of user-centric design and operational efficacy, culminating in a platform that's not just an e-commerce site but a comprehensive, secure, and efficient tool for bulk purchasing resellers.