Zolnier Championship Rings
Wide selection of unique and custom made championship rings!
Zolnier Championship Rings specializes in creating bespoke rings that celebrate victorious moments and milestones. Their forte lies in crafting championship and graduation rings, each meticulously designed to encapsulate achievements and memorable journeys. Zolnier not only crafts these physical symbols of success but also endeavors to make them accessible and customizable for their clientele, both in the realms of individual customers and teams alike.
While their championship and graduation rings were the biggest sellers, Zolnier faced a conundrum where these flagship products were enmeshed with the rest of their offerings. They identified a need for a distinct digital space that not only spotlighted these specific rings but also provided a platform for customers to submit custom quotes and manage payments efficiently. The struggle also extended to streamlining their payment processes and customer interaction with regards to purchasing and customizing their rings, which was initially only constrained to phone payments and lacked a streamlined digital experience.
In alignment with Zolnier's unique requirements, the solution was carved out using WordPress while architecting a completely custom backend designed to manage a substantial volume of orders with finesse. The approach was to create a digital environment that not only showcased the best of their rings in a distinguished manner but also facilitated an intuitive and streamlined process for customers to seek quotes, customize their rings, and manage payments online. Furthermore, an additional layer of functionality is being woven in by integrating a print-on-demand platform to their digital setup.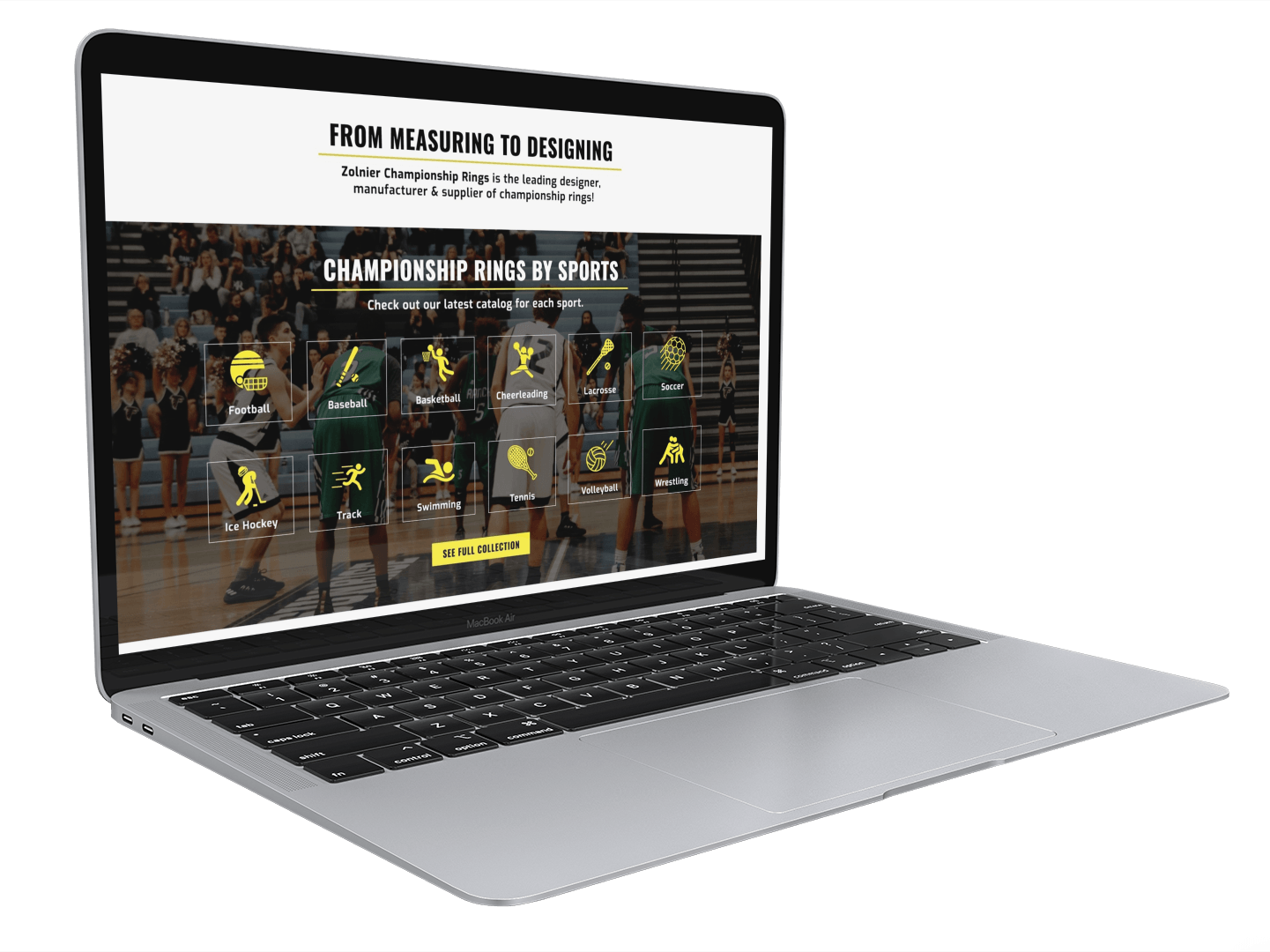 Zolnier's new website has not only provided a dedicated platform to showcase their best-selling championship and graduation rings but has also orchestrated a remarkable surge in sales. It has refined the customer journey by providing clear information about the diverse ring options and enabling an efficient, online mechanism for custom quotes and payments. This has not only optimized the customer experience but also streamlined Zolnier's operational efficiency by facilitating online payments, thereby reducing the dependency on phone payments. Furthermore, the bespoke backend caters to the processing of tens of thousands of orders with seamless efficiency, positioning Zolnier to manage individual and team orders with equal adeptness, and paving the way for smooth integration with the impending print-on-demand platform.