Reagan Gold Group (RGG), located in Los Angeles, CA, assists clients in diversifying their portfolios through the acquisition of physical gold and silver, whether in coins, bars, or as an addition to existing IRA accounts. Their comprehensive and meticulously crafted website serves as both a detailed catalog of their precious metal offerings and a potent platform for investment education, customer acquisition, and lead generation.
RGG sought to establish a web presence that was unparalleled in the gold brokering industry, desiring a platform that was not just visually striking and distinctive, but also deeply functional and effective in generating leads and converting prospects. The aim was to meticulously integrate an extensive catalog, lead-generating landing pages, and an SEO-optimized blog into a digital platform that would seamlessly represent RGG's premium and expert identity.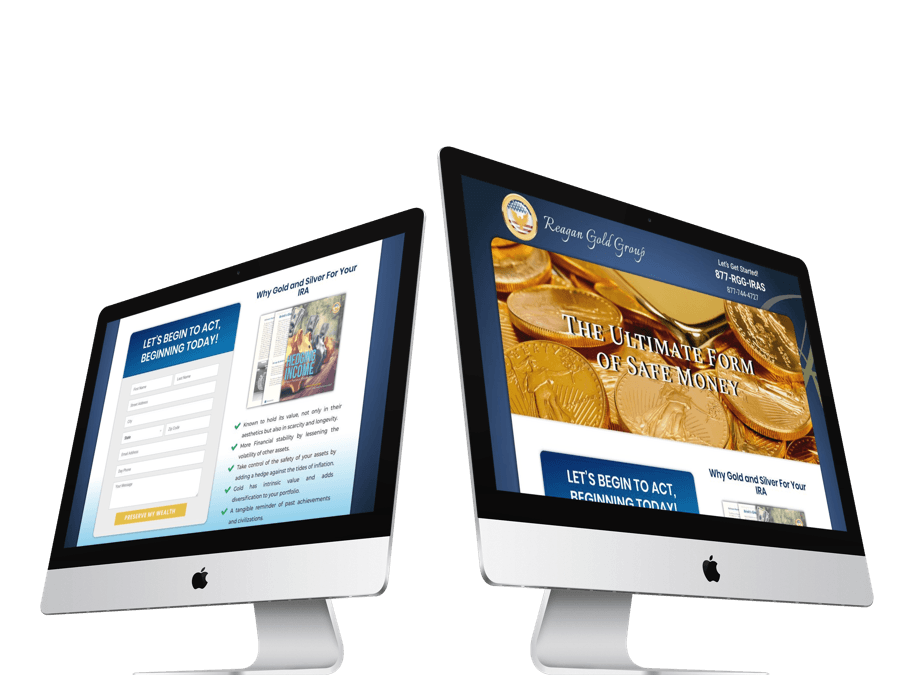 To address RGG's need for a standout, lead-generating, and customer-converting website, we leveraged the capabilities of WordPress, Elementor, and several Crocoblock Jet plugins. The site was conceptualized to feature distinct Gold, Silver, and Platinum sections, each constructed with custom post types utilizing Jet Engine. Furthermore, a multitude of custom landing pages were thoughtfully designed and built into the backend, each fine-tuned for specific Adwords and Newsletter campaigns, while an SEO-friendly blog was crafted to both inform and engage visitors, facilitating organic traffic growth.
Post-implementation, RGG boasts a web platform that is not just a beacon of distinctive visual design in the gold brokering sector but also a powerhouse in lead generation and customer conversion. The site successfully mirrors RGG's identity as a top-tier entity in the precious metal investment sector and has become a pivotal tool in their customer engagement and conversion strategy, seamlessly melding aesthetic allure with multifaceted, user-centric functionality, and contributing actively and significantly to their digital marketing and client acquisition endeavors.
We found Josh on a craigslist ad for some final touches on our website. He is very knowledgeable about Elementor which is a page builder within WordPress. We gave Dray Web Services a detailed outline of the final edits needed and they finished in a timely manner as promised. We highly recommend Josh Dray & Dray Web Services for any Web Services needed. If you're told something cannot be done for your website, Josh will get it done!
Thank you, Josh, from everyone here at Reagan Gold Group!