Free lab quality pregnancy tests offered in a confidential and comfortable environment.
Care Net Pregnancy Center in Milwaukee offers invaluable support to expectant mothers, particularly those navigating the intricacies of unplanned pregnancies. The center provides a myriad of free services including consultations, ultrasounds, pregnancy tests, as well as supplying essential baby items. Their online platform serves as a comforting, educational, and comprehensive resource for pregnant women, providing vital information on pregnancy processes and available assistance post-childbirth.

The initial struggle revolved around crafting a website that could serve dual purposes: to be a soft landing and reassuring space for expectant mothers and simultaneously to act as a potent tool for capturing crucial SEO and AdWords, ensuring that those in need could effortlessly find Care Net amidst a sea of online information. Achieving an empathetic, comforting design that also ticked all the technical boxes of SEO and ad performance presented a delicate balance to strike.
Utilizing Figma, a fully custom design was crafted with an utmost focus on compassion and understanding, ensuring every element from imagery to text resonated with empathy and support. Implemented through WordPress and realized with Elementor, meticulous attention was paid to SEO optimization and AdWords performance. The website was saturated with relevant keywords, not just to drive traffic, but to ensure that the help offered by Care Net was visible and accessible to every expectant mother searching for support and information online.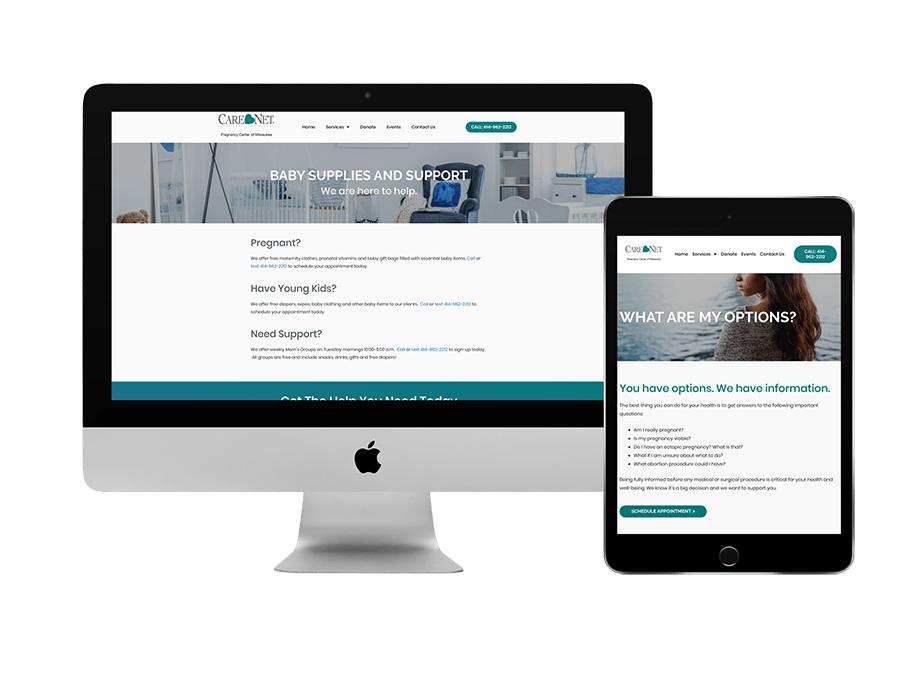 Care Net's website now stands as a beacon of support and a wellspring of information for expectant mothers, all while efficiently capturing essential keywords to optimize their online visibility. The platform does not only draw mothers in through enhanced SEO and AdWords strategies but also envelops them in a compassionate digital embrace, providing both emotional assurance and tangible support through their journey. Through monthly analytics, the site has witnessed an uplift in organic traffic and, more importantly, has become a crucial link between the help Care Net offers and the mothers who are in desperate need of it, affirming the website's success both as a resource and a digital sanctuary.