7Ten
Professional Recruiting
Boost profits with discounted gift cards
7Ten Professional Recruiting stands out as a premier recruiting agency located in Lake Elsinore, specializing in the Heavy Civil Construction sector. What sets 7Ten apart is its foundation—established by seasoned Heavy Civil professionals, including a CEO with an impressive 37-year journey from a Laborer to a Sr. Project Manager. This unique origin story isn't just for show; it's the backbone of 7Ten's approach to recruitment. Their team comprises former Foremen, Superintendents, Engineers, and Project Managers, all equipped with authentic industry experience. This insider knowledge allows 7Ten to dive deeper in candidate evaluations, surpassing the superficial "keyword matching" tactics commonly seen in the recruitment landscape.
Representing such a unique brand required a web presence that could mirror 7Ten's profound industry insight and their personalized approach to recruitment. The challenge involved designing a website that wasn't just visually appealing but also encapsulated the depth of experience, the rigor of their vetting process, and their commitment to aligning the right talent with the right roles. A standard template wouldn't suffice; this needed a tailored solution, a digital platform that spoke directly to clients and candidates alike about the unparalleled service 7Ten offers.
The journey commenced with detailed dialogues with the 7Ten team to extract the essence of what they represent. A custom website design was meticulously sketched out in Figma, considering every element that could reflect 7Ten's ethos and expertise. Each design decision was made with a clear purpose – to communicate their unique ability to recognize true talent, thanks to decades of hands-on experience. The site was then brought to life using WordPress and Elementor, ensuring a seamless, user-friendly experience without compromising on the personalized touch that 7Ten prides itself on.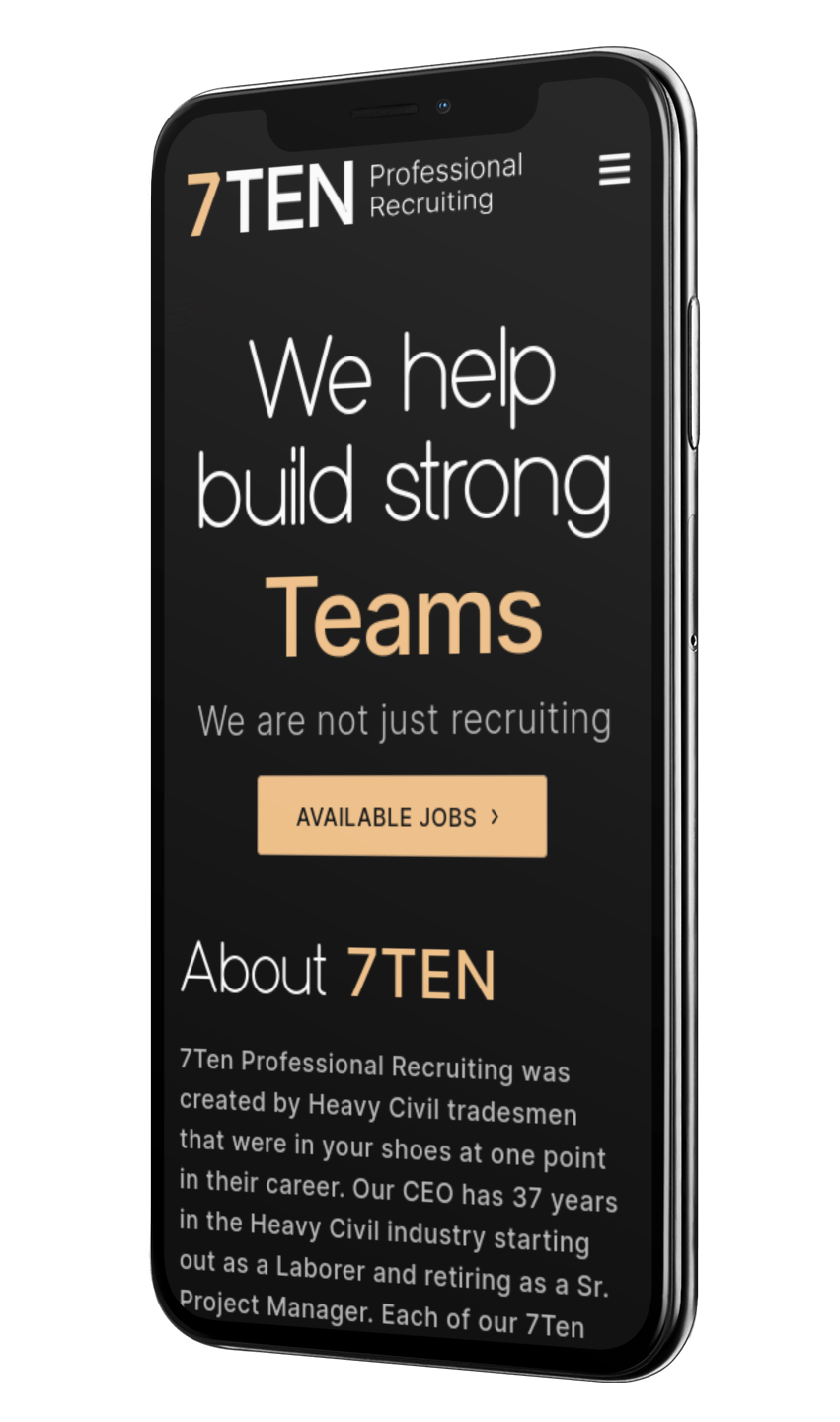 7Ten's website is a digital embodiment of its brand. Each page serves as a testament to their in-depth approach to candidate selection, their industry background, and their dedication to serving the Heavy Civil Construction sector. Prospective clients and candidates visiting the site are not just informed but reassured; here lies a recruiting firm that doesn't just match keywords but understands the intricacies of the roles they recruit for. The website mirrors 7Ten's commitment to quality, showcasing their unique position as insiders within the construction world, and underlines their promise to present only the most exemplary candidates to their clients. 7Ten's online presence, much like their service, is rooted in authenticity, expertise, and an unwavering commitment to excellence in recruitment.